PRODUCTS
BIELLA NASTRI manufactures special textile accessories called MEASURING TAPES. Measuring tapes are used for measuring any kind of material in a piece or roll (especially fabrics), and have already fully satisfied hundreds of customers both in Italy and abroad.
Produced using a special kind of very tough paper, they are inserted into the pieces when the fabric is being rolled or folded, with the following advantages:

PRECISION
Measuring errors are completely eliminated.
No problems with customers disputing measurement.

INVENTORY
There is a permanent inventory even if the pieces or rolls have been cut several times.

ECONOMY
Effective economy in terms of time and money.

ADVERTISING
Excellent opportunity for advertising by printing the name of the manufacturer on the tape.
TECHNICAL CHARACTERISTICS
Measuring tapes are produced using a special kind of very tough, thin, white waxed paper (41 g/m2); they are printed with printing inks
which dry by penetrating the paper, thus ensuring that they are absolutely clean when in contact with fabrics. All the products used in the production of these measuring tapes meet the international ISO 9002 quality standard.
The measuring tapes have a standard width of 10 mm and contain no inner core, so that when they have been used, there is no waste.
The central hole on which they are hinged has a diameter of 14 mm.
The outside diameter of the tape varies depending on the size requested: for example, the maximum size possible, that is, 999 metres,
has a diameter of about 25 cm.
They are printed as follows:
the marks denoting the units, tens and hundreds of metres are printed in RED and repeated every 20 cm.
The marks denoting centimetres, printed in BLACK to distinguish it from the other information on the tape, are printed every 10 cm.
Another black line marks off the 5-cm intervals.
Each tape is marked on the outside with the measurement contained inside so that it can be recognised more easily.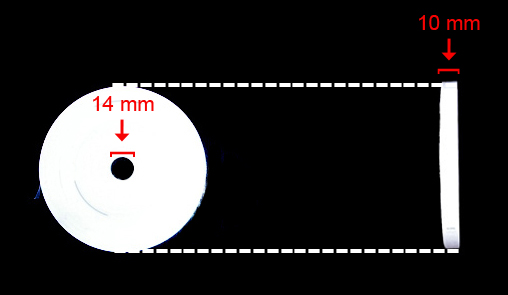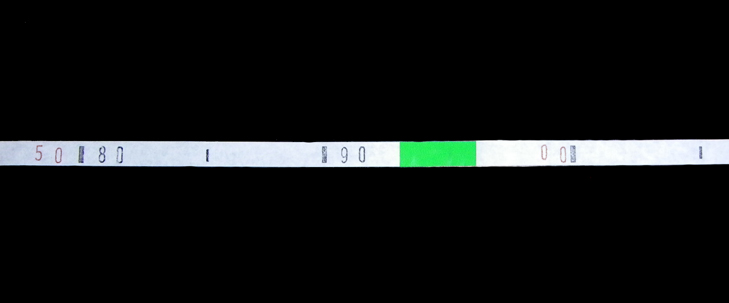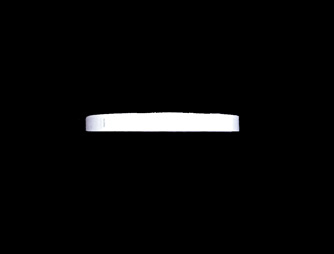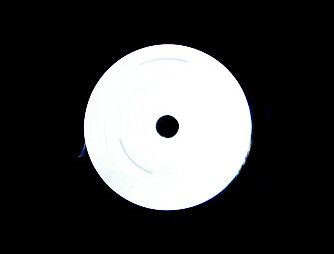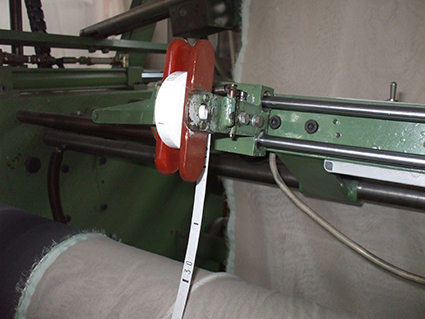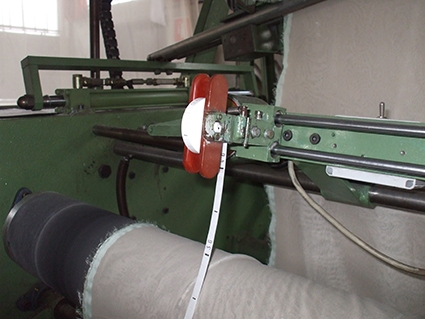 USES
Measuring tapes of this kind are used by:
WOOLLEN MILLS, COTTON MILLS, KNITWEAR COMPANIES, JUTE FACTORIES, CARPET MANUFACTURERS, GARMENT MAKERS, PRINTERS, WEAVING COMPANIES, FINISHING COMPANIES, FELT MANUFACTURERS AND WADDING MANUFACTURERS, AND FACTORIES PRODUCING LINOLEUM, LININGS, CURTAINS, ANTI-HAIL NETTING, LACE
and can be used by any company manufacturing products that can be rolled or folded.
PACKAGING
Once produced, the measuring tapes are packaged. First they are wrapped in packs of 20 in a special type of heat-retractable nylon.
They are then put into double-thickness cardboard boxes bound with metal straps, which ensure maximum protection of the product during delivery. A 10% tolerance level on the order quantity is asked of the customer in order to complete the package.
The following packaging formats are available here: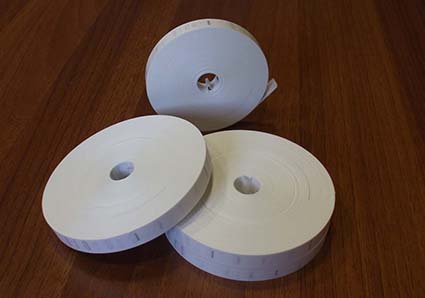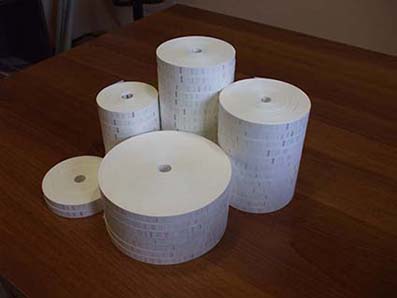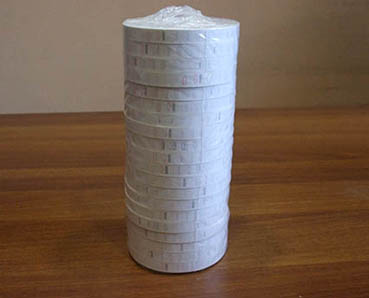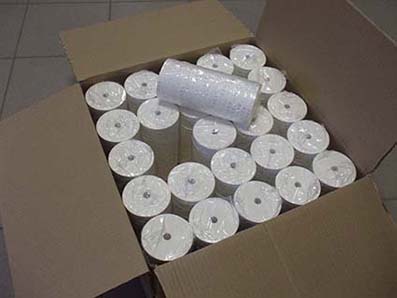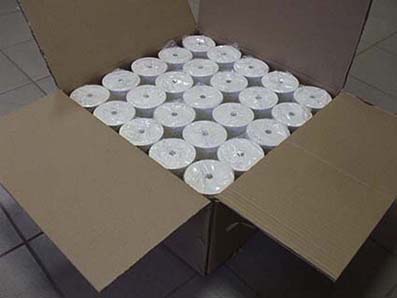 PRICES
measuring tapes from 0 to 99 meters: 0,0052 euro/metro
measuring tapes from 100 to 999 meters: 0,0053 euro/metro
unrolling machine: 80 euro/piece
WHERE WE ARE
BIELLA NASTRI
Via Per Borriana 1/a
13875 – Ponderano (BI)
Italia
CONTACT
   info@biellanastri.it

+39 015 541810    +39 015 541810